Accreditation
On November 10, 1999, the German Township Police Department earned accreditation by The Commission on Accreditation for Law Enforcement Agencies, Inc. (CALEA), becoming the smallest department in the state of Ohio to be accredited. Since that time, the police department members have worked diligently to comply with all the applicable standards.
In April of 2002, two assessors from CALEA, Chief Stacey Cotton from Covington, Georgia, and Sgt. Paul Forcier from Niagara Parks Police Service, Canada, visited the German Township Police Department to review files, interview officers and township residents, and to evaluate whether the department was in compliance with the high standards set by CALEA. The assessment went very well. The German Township Police Department was re-accredited during the July 2003 CALEA Conference in Cleveland, Ohio.
The department completed their next re-accreditation on-site inspection on August 13 -17, 2005. The assessors were Chief Carel Duplessis from Oakland (CA) Housing Authority Police Department and Lt. Sean Kelly from Durham (NH) Police Department. The on-site went well, and the German Township Police Department was re-accredited for the second time during the November 2005 CALEA conference in Nashville, TN.
The German Township Police Department's next on-site inspection by CALEA assessors occurred on August 9-13, 2008.  Captain Christopher Bonvillain, of Gaithersburg (MD) Police Department, and Chief Jeanne Miller, of Davidson (NC) Police Department were the assessors.  The department received Accreditation with Excellence at the Dec. 6, 2008 CALEA conference in Tulsa, OK.
The German Township's last accreditation on-site was on June 16-19, 2014.  Assessors were Chief Jay Murphy (Ret.) of Cape Coral (FL) Police Department and Lt. Chris Ciuci of Berlin (CT) Police Department. 
<![if !vml]>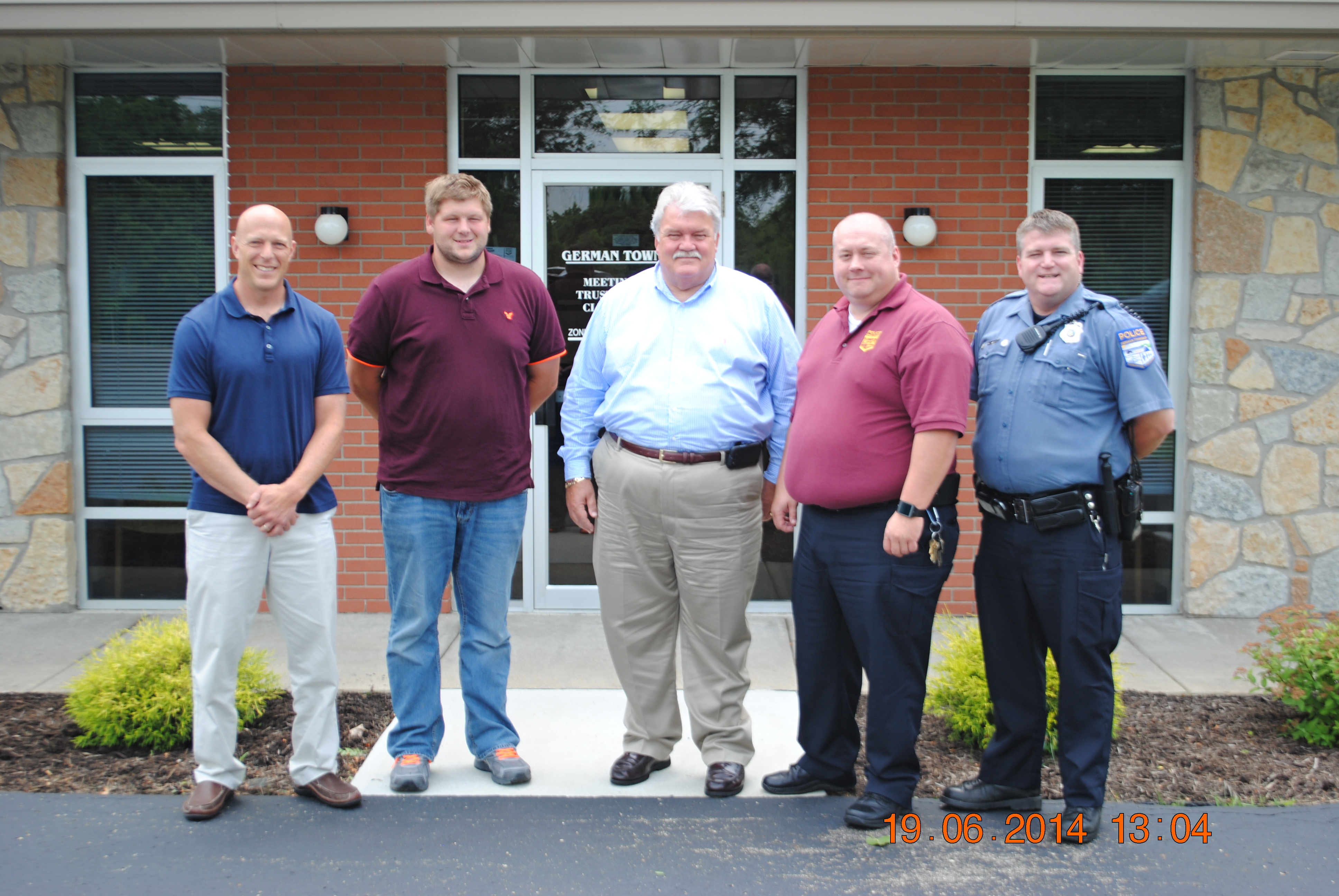 <![endif]>Pictured are: L-R: Lt. Chris Ciuci, Jacob Stubbs (Trustee), Chief Jay Murphy, GTPD Chief Joseph Andzik, and GTPD Officer Shane Birch.
For further information about accreditation contact Laurie Rohrbach, the department's Accreditation Manager, at (937) 855-7215, or visit CALEA's website at calea.org.